Trainer

Anis Chelbi
Diplômé de l'université Laval, Canada et de l'université de Kyoto (Japon).
Son expertise principale et ses intérêts de recherche comprennent la gestion de projets, la gestion des opérations et de la chaine d'approvisionnement, la maintenance des systèmes de production et l'optimisation de la fiabilité des systèmes. Dr. Chelbi, dirige une unité de recherche en Productique et il est également membre associé du centre interuniversitaire de recherche sur les réseaux d'entreprise, la logistique et le transport (CIRRELT), Canada. Il a une expérience de plus de 20 ans en tant que consultant et formateur, pour des entreprises nationales et internationales. Il est récipiendaire du prix Outstanding Paper Award at the Literati Network Awards for Excellence, 2009.
Context
Ce séminaire traite des principes et outils de la gestion de projets et des meilleures façons d'appliquer ces outils dans un environnement caractérisé par plusieurs aléas sur les plans opérationnel et humain. Il s'agira d'abord du choix et de la gestion des ressources humaines devant contribuer à la réalisation d'un projet. Ensuite, il sera question du plan de management de la communication dans un projet.Suite à cela, des méthodes et outils de planification/ordonnancement et d'optimisation durée-coût seront présentés. On traitera de l'analyse et de la gestion des risques sur un projet et les participants auront à faire des exercices d'application spécifiques à certaines parties de cette formation. Enfin, une étude de cas par équipe clôturera ce séminaire.
Objective
Choisir judicieusement les ressources humaines sur un projet.
Evaluer les styles de comportement dans un contexte de gestion des conflits.
Etablir et exécuter une procédure de communication sur un projet.
Décrire et utiliser les méthodes de planification/ordonnancement de projets CPM (Critical Path Method) et PERT (Project Evaluation and Review Techniques) en absence et en présence de contraintes sur les ressources.
Déterminer les compromis Durée-Coût sur un projet.
Identifier, analyser et gérer les risques reliés à un projet.



Description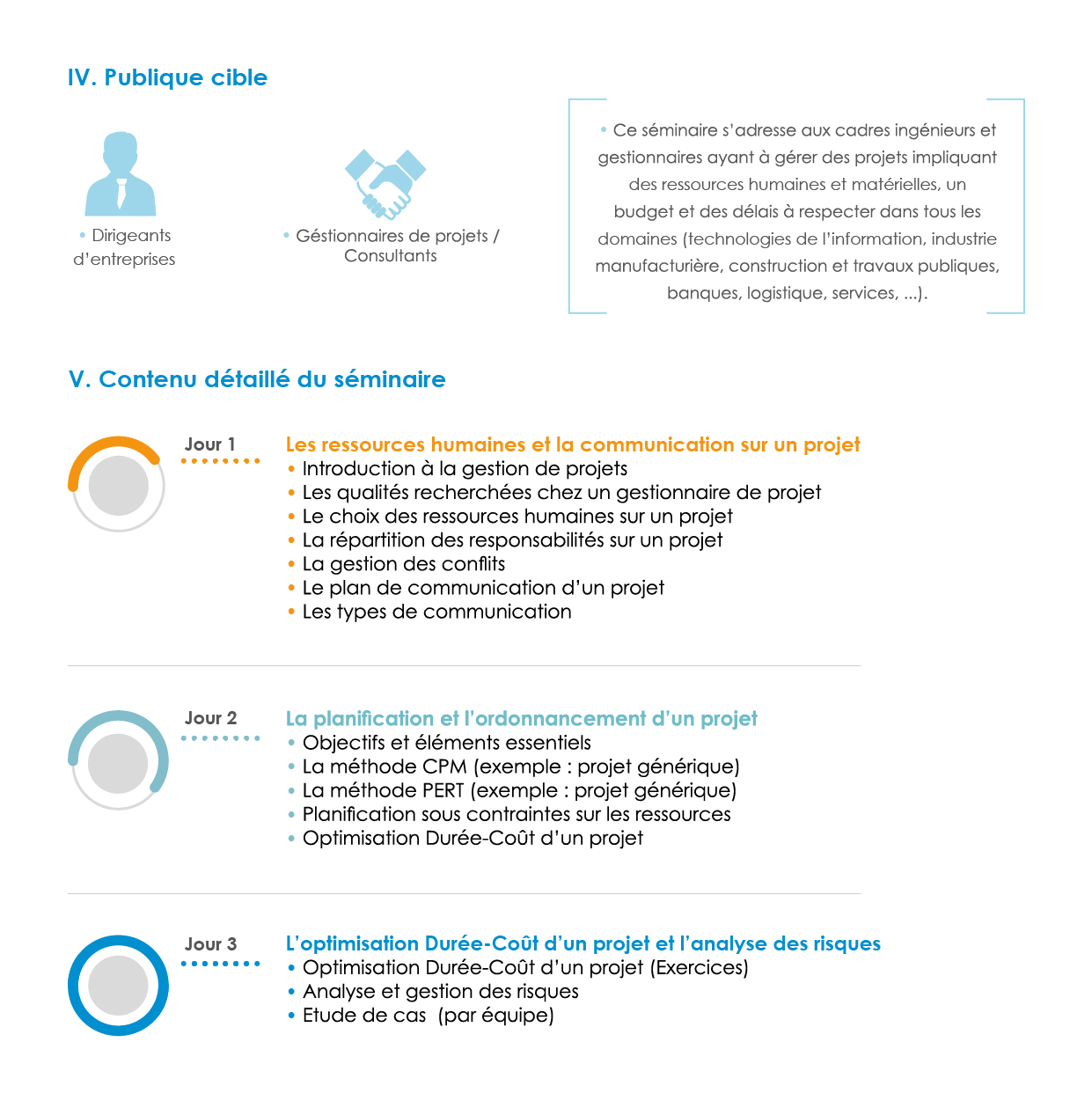 Click here to apply :
Public Target
Engineers and executives managing projects involving human and material resources, a budget and deadlines, in all fields (information technology, industry, construction and public works, banking, logistics, services …)