Trainer
Ishraf ZAOUI
PhD en Marketing et Système d'Information
Ishraf ZAOUI est titulaire d'un PhD en Marketing et Système d'Information de l'Université Pierre Mendès-France Grenoble II. Après plusieurs années d'enseignement et de direction de programmes à l'université en Tunisie et en Grandes Ecoles en France, Ishraf Zaoui a fondé DigiAct, un cabinet conseil à Lyon, spécialisé en Marketing Digital et en CRM. Elle intervient auprès des entreprises à l'internationale et en Tunisie sur les problématiques de mise en place de stratégies de marketing digital, de design d'expériences clients et de gestion de la relation client à l'ère de la dématérialisation. Elle est également membre de la chaire de recherche « Transformation digitale et Intelligence Artificielle » avec l'Inseec Lyon, Cegid et Esker.
Context
L'abondance et la disponibilité des technologies offrent aujourd'hui aux entreprises de nouvelles opportunités pour développer leurs marques et générer de la croissance. Nombre d'entreprises utilisent le digital sans réelle stratégie, ce qui ne leur permet pas de tirer profit des différentes possibilités qu'il offre et les prive d'une réelle synergie entre les différentes tactiques menées en silos. Le digital donne du sens au marketing en permettant de mieux connaître le client, d'anticiper ses besoins et de personnaliser ce qu'on lui offre. Aujourd'hui la question de la présence en ligne ne se pose plus. La question est de savoir quelle forme de présence en ligne fautil considérer et quels leviers utiliser pour atteindre ses objectifs et être plus compétitif.
Objective
Appréhender les enjeux du marketing digital;
Définir la démarche pour établir sa stratégie de marketing digital;
Présenter les différents leviers du marketing digital;
Mesurer la performance de ses actions digitales.
Description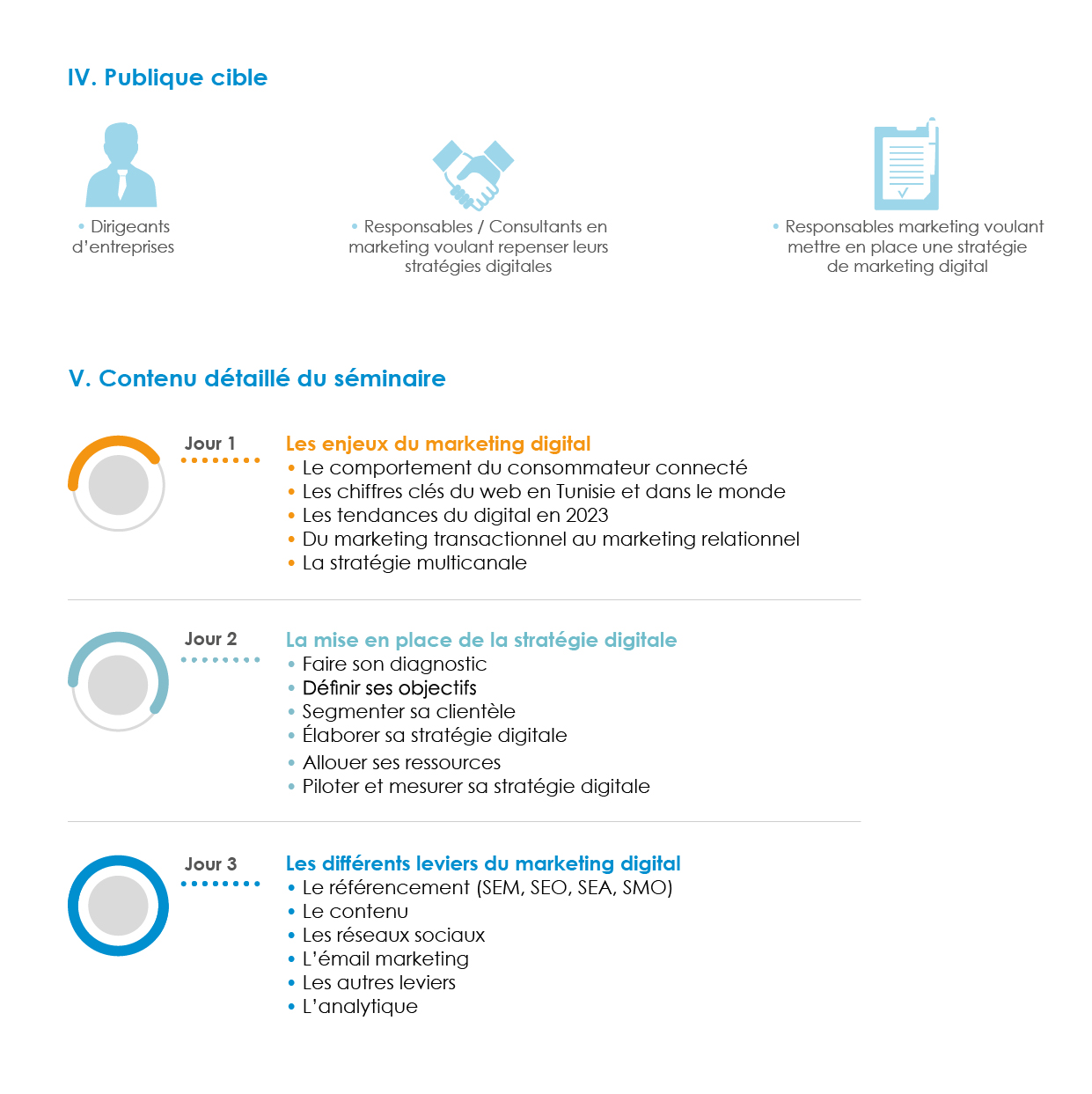 Click here to apply :
Public Target
Dirigeants d'entreprises
Executives, engineers and managers who are not specialized in marketing and communication matters but who are required to use digital marketing data and to interact with marketing and communication departments.